Location
Mount Hotham is located in the heart of the Victorian Alps, surrounded by Alpine National Park. It's classic Australian wilderness up here. Think snowgums, think rolling mountain ridges, think Man from Snowy River country...it's breathtaking. The village itself is at 1750m, just below the summit of Mount Hotham (1861m). And, it's easily accessible, thanks to Australia's great touring route - The Great Alpine Road.
The Great Alpine Road
The Great Alpine Road runs from Wangaratta in the north of Victoria, to Bairnsdale in the south - and Hotham lies in the centre.
Distance and Approximate Times
* Melbourne to Wangaratta 239km - 2.5 hours
* Wangaratta to Mount Hotham 130km - 2 hours
* Mount Hotham to Dinner Plain 11km - 10 mins
* Dinner Plain to Bairnsdale 162km - 3 hours
* Bairnsdale to Melbourne 283km - 3 hours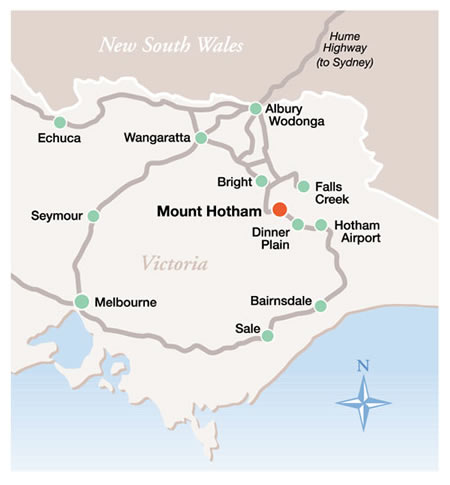 Location Maps